In less than a month, 2019 will come to an end and the start of a new decade will begin. The last 10 years have profoundly changed the insurance industry, particularly by way of advances in technology. Whether it was blockchain, aerial imagery, artificial intelligence (AI), machine learning (ML) or chatbots, the industry has come to embrace advances in technology — if only just to avoid falling behind to a competitor.
However, many have truly embraced the change and are investing in the capabilities that will help them thrive in an increasingly fast-paced, data-driven marketplace. Two of the key capabilities for insurance carriers are AI and ML. But the underlying question with new technology is often whether it's just hype or the real deal.
To better understand insurance carriers' perceptions and the potential benefits and challenges impacting AI and ML adoption, LexisNexis Risk Solutions surveyed more than 300 insurance professionals. Respondents work in data science, analytics, actuarial, technology, underwriting, product management and claims roles, across the top 100 U.S. carriers within the auto, home, life and commercial markets. The research identified two groups: Adopters (62%) are respondents who are applying, piloting and planning AI and ML projects, while Non-Adopters (38%) are respondents who are not.
The bottom line: An overwhelming majority of respondents (75%) believe AI and ML is a reality, not hype, with 62% working at carriers that have adopted AI and ML.
A competitive advantage
Part of the reason carriers are looking to AI and ML is that they believe the technology offers a competitive advantage and will define industry leaders. Auto carriers have the highest adoption by line of business (68%), followed by life (65%) and commercial (60%). Nearly half of home carriers have adopted AI and ML.
While carriers are using AI and ML across functional areas, the vast majority of adopters are focused on key decision areas. In underwriting, adopters are primarily using AI and ML for product development and enhancement (76%), pricing and discounting (76%), and customer retention (63%). In claims, adopters are primarily using AI and ML to improve fraud detection (70%), triage modeling (64%) and reduce costs (63%).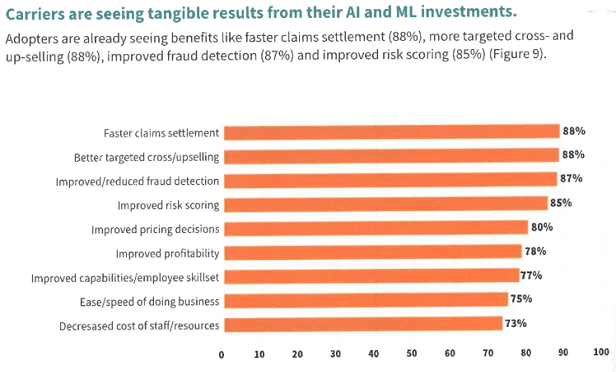 Among respondents who do not believe that AL and ML can provide a competitive advantage, the accuracy, trustworthiness and relevance of AI and ML outputs was the top concern. Additionally, this group has concerns about data security and exposure. Most respondents also noted that AI and ML adoption will place the burden on carriers to explain to consumers and regulators how AI and ML are used in insurance decisions.
Plenty of challenges tied to AI, ML
While AI and ML have incredible upside, they also come with challenges.
Financial concerns, such as the cost of implementation, uncertainty around return on investment and competing priorities, were cited by 93% of adopters. Staffing challenges were cited by 80% of adopters, with concerns ranging from the staff's ability to monitor the quality and stability of data used in AI and ML applications to a lack of the right number of people able to apply new AI and ML techniques, as well as the right analytical skills.
Concerns over data challenges (53%) and compliance and regulatory challenges (52%) rounded out the four biggest concerns. Since effective AI and ML strategies rely on high-quality, trustworthy data, adopters cited concerns about an increase in data volume, the security of more data, accurately linking different data sources and more. Concerns over compliance and regulatory challenges mentioned increased scrutiny as more data is accessed and modeled, and a lack of understanding from regulatory and legal bodies.
"Insurers are grappling with unprecedented changes, whether it's how digital impacts customer expectations, blurring industry lines that foster co-opetition and new business models, or increasing regulatory requirements around data privacy and security," John Beal, senior vice president, data science at LexisNexis Risk Solutions, said in a statement. "A key lesson from the study is that carriers must invest in capabilities that will help them thrive in a faster-paced, data-driven market. AI/ML capabilities can give them the real, measurable lift they need to get ahead."
Related: 
Credit: Google News