Microsoft has announced a new application, Dynamics 365 Project Operations, as well as additional AI-driven features for its Dynamics 365 range.
If you are averse to buzzwords, look away now. Microsoft Business Applications President James Phillips announced the new features in a post which promises AI-driven insights, a holistic 360-degree view of a customer, personalized customer experiences across every touchpoint, and real-time actionable insights.
Dynamics 365 is Microsoft's cloud-based suite of business applications covering sales, marketing, customer service, field service, human resources, finance, supply chain management and more. There are even mixed reality offerings for product visualisation and remote assistance.
Dynamics is a growing business for Microsoft, thanks in part to integration with Office 365, even though some of the applications are quirky and awkward to use in places. Licensing is complex too and can be expensive.
What pockets $129m profit a day, starts with M, and rhymes with 'wow, so soft'? Hint: Its cloud is going gangbusters
READ MORE
Keeping up with what is new is a challenge. If you have a few hours to spare, you could read the 546-page 2019 Release Wave 2 [PDF] document, for features which have mostly been delivered, or the 405-page 2020 Release Wave 1 [PDF], about what is coming from April to September this year.
Many of the new features are small tweaks, but the company is also putting its energy into connecting data, both from internal business sources and from third parties, to drive AI analytics.
The updated Dynamics 365 Customer Insights includes data sources "such as demographics and interests, firmographics, market trends, and product and service usage data," says Phillips. AI is also used in new forecasting features in Dynamics 365 Sales and in Dynamics 365 Finance Insights, coming in preview in May.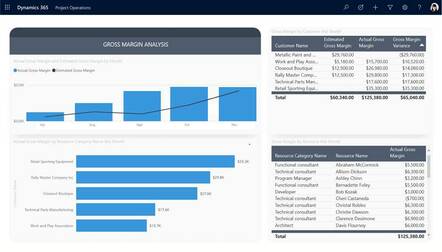 Dynamics 365 Project Operations … Click to enlarge
The company is also introducing a new application, Dynamics 365 Business Operations, with general availability promised for October 1 2020. This looks like a business-oriented take on project management, with the ability to generate quotes, track progress, allocate resources, and generate invoices.
Microsoft already offers project management through its Project products, though this is part of Office rather than Dynamics. What can you do with Project Operations that you could not do before with a combination of Project and Dynamics 365?
There is not a lot of detail in the overview, but rest assured that it has AI-powered business insights and "seamless interoperability with Microsoft Teams," so it must be great, right? More will no doubt be revealed at the May Business Applications Summit in Dallas, Texas. ®
Sponsored:
Detecting cyber attacks as a small to medium business
Credit: Google News